Shareholder structure 4Q 2021
Data according to the CNMV communications and communications received by the company.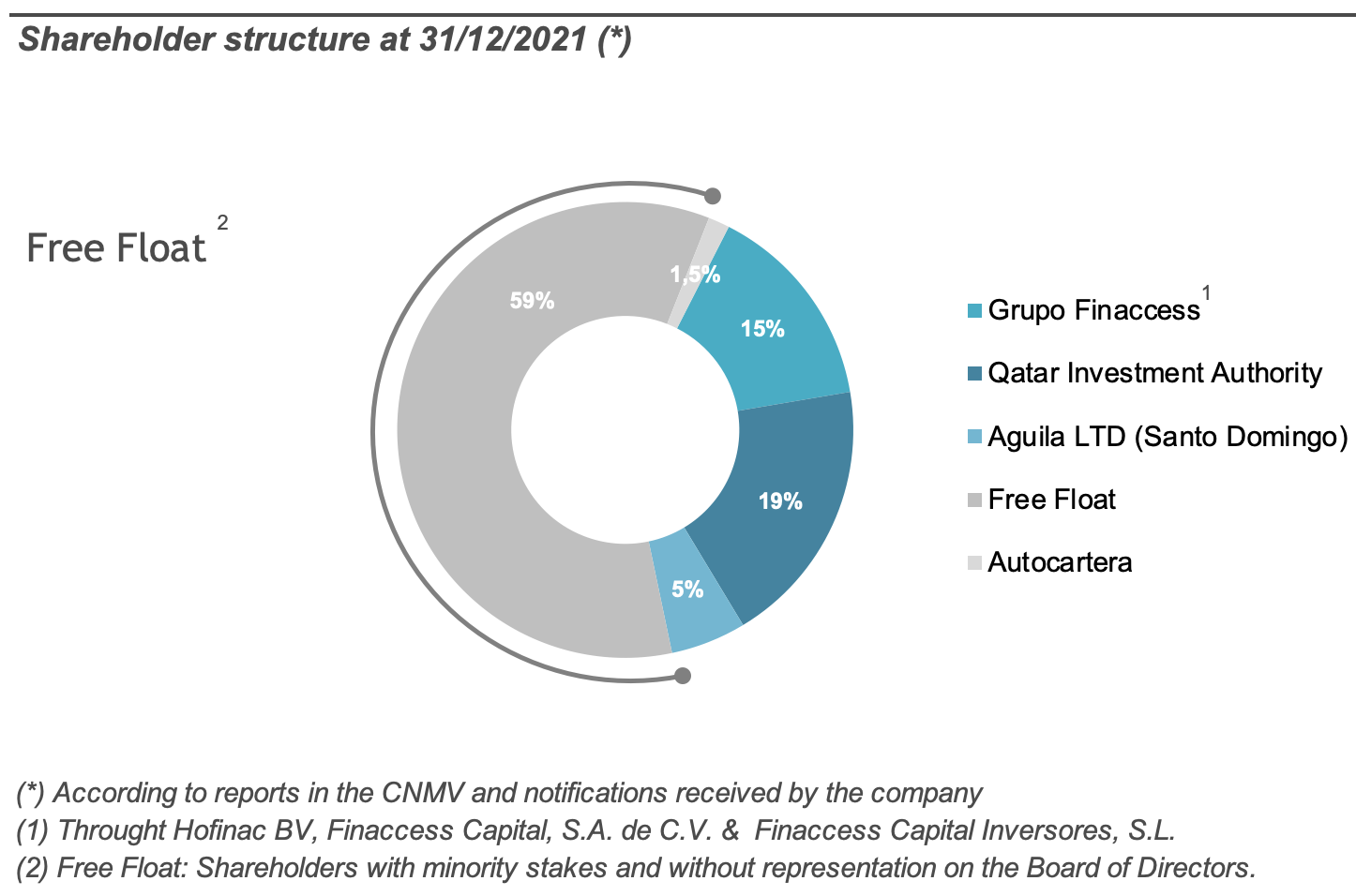 Shareholdings & Treasury shares
This information is available on the Comisión Nacional del Mercado de Valores (CNMV) website, where the company's treasury share situation is described.
Capital Structure
Inmobiliaria Colonial's share capital, following the most recent capital increase in August 2021, amounts to 1,326,523,705.00 euros, comprising 530,609,482 shares, each with a nominal value of 2.5 euro. All the shares are of the same class and series, represented by the book-entry method and are fully paid-up and subscribed. All the shares confer the same voting and financial rights.
The shares of Inmobiliaria Colonial, SOCIMI, S.A. they are listed on the Stock Exchanges of Madrid and Barcelona, in the segment corresponding to general contracting market trading.
Capital Performance
| Date | Operation | Nº Issued Shares | Nº Total Shares | Nominal per Share | New Share Capital |
| --- | --- | --- | --- | --- | --- |
| Jan. 2014 | Capital reduction | - | 225.918.690 | 0,25€ | 56.479.672,50€ |
| Jan. 2014 | Capital increase warrants conversion | 1.890 | 225.920.580 | 0,25€ | 56.480.145,00€ |
| Mar. 2014 | Capital increase warrants conversion | 79.101 | 225.999.681 | 0,25€ | 56.499.920,25€ |
| May. 2014 | Capital increase | 2.937.995.853 | 3.163.995.534 | 0,25€ | 790.998.883,50€ |
| May. 2014 | Capital increase warrants conversion | 1.944.444 | 3.165.939.978 | 0,25€ | 791.484.994,50€ |
| Dec. 2014 | Capital increase warrants conversion | 22.916.662 | 3.188.856.640 | 0,25€ | 797.214.160,00€ |
| Jun. 2016 | Capital increase | 90.805.920 | 3.279.662.560 | 0,25€ | 819.915.640€ |
| Jun. 2016 | Capital increase | 288.571.430 | 3.568.233.990 | 0,25€ | 892.058.497,50€ |
| Jul. 2016 | Contra-split | - | 356.823.399 | 2,5€ | 892.058.497,50€ |
| May. 2017 | Capital increase | 35.646.657 | 392.470.056 | 2,5€ | 981.175.140,00€ |
| Nov. 2017 | Capital increase | 42.847.300 | 435.317.356 | 2,5€ | 1.088.293.390,00€ |
| Jul. 2018 | Capital increase | 19.273.622 | 454.590.978 | 2,5€ | 1.136.477.445,00€ |
| Nov. 2018 | Capital increase | 53.523.803 | 508.114.781 | 2,5€ | 1.270.286.952,50€ |
| Ago. 2021 | Capital increase | 22.494.701 | 530.609.482 | 2,5€ | 1.326.523.705,00€ |
| Sep. 2021 | Capital increase | 9.006.155 | 539.615.637 | 2,5€ | 1.349.039.092,50€ |