Barcelona- Investment Market
In Barcelona, the investment volume in 2021 reached €2,000m, the highest in the last 14 years, and +13% more than in 2019 (pre-Covid year). The 22@ market, followed by the CBD, continue to concentrate more than 70% of the transactions, as they provide investors with the sought-after products: Grade A buildings in excellent locations, with AAA clients. 80% of the transactions were carried out by international investors with the aim of obtaining adjusted risk assets. Among the investors, investment funds stand out, specialised in real estate investment and institutional investors from central Europe, in particular German investors. This flow of capital meant core products positioned the prime yields of Barcelona at levels of 3.50%.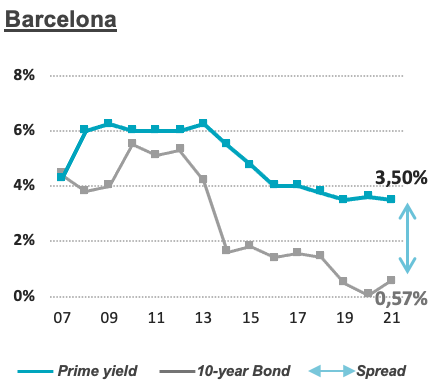 Madrid- Investment Market
In Madrid, the investment volume reached €655m, of which the CBD concentrates more than 60% of the total transactions. In 2021, the main investors were national and international insurance companies and institutional funds. Investors showed a high willingness and capacity to invest in the office market in Madrid, at levels similar to those of 2019. However, the availability of Grade A product is very limited. In this respect, international investment funds consider ESG to be the key factor of each asset and the margin for improvement of the stock in certain areas in Madrid is therefore significant. Prime yields in Madrid stood at 3.25%.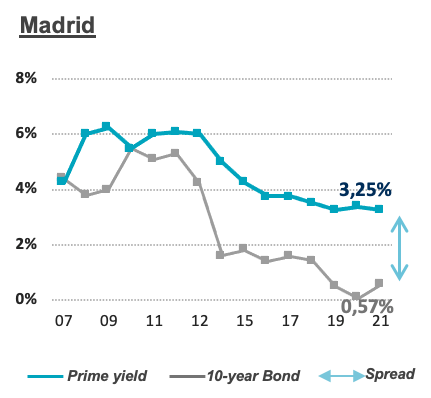 Paris- Investment Market
The investment volume in the office market of Paris reached €12,663m in 2021. Investment in core offices in Paris concentrated 60% of the total investment in real estate assets in 2021, being investors' preferred type of asset. International funds have once again invested a volume like 2019, showing a trend of recovery in the investment market following the pandemic. Likewise, in 2021, investors, in particular international funds, have been looking for assets with adjusted risk, therefore they have been very active in the acquisition of assets of prime offices located in well-established areas with a good ESG profile. Likewise, the lack of this type of product has limited the number of large transactions for this year. Prime yields stood at 2.50%.